Cleanroom Foam Swab FS707 Foam Swab Sticks
Deskripsi:
Cleanroom Foam Clean Swab FS707 dari Mediclean memiliki kepala berbentuk persegi panjang, panjang dan pegangan panjang. Pegangan ini terbuat dari 100% polypropylene yang kaku dan fleksibel. Kepala busa polyurethane-nya menyediakan kapasitas absorben pelarut yang sangat baik. Hal ini terutama digunakan pada pembersihan tujuan pembersihan universal dari permukaan besar. FS707 Cleanroom Steril Swab adalah pilihan yang baik untuk menghilangkan residu, minyak, tinta dari Printer Thermal Printhead, Stasiun Cap Printer Inkjet, periksa rol pengangkut Pemindai, dll.
Cocok dengan:
- Texwipe Cleanroom Foam Swab TX707
Hubungi Mediclean untuk lebih banyak Tissue Foam Cleanroom Texwipe Kompatibel.
Spesifikasi:
- Nomor Model: FS707
- Bahan Kepala: 100 PPI Polyurethane Foam
- Menangani Bahan: 100% Polypropylene
- Pegangan Warna: Hijau (Putih, Hitam, Biru tersedia atas permintaan)
- Standar Met: Kelas 10 ISO Kelas 4 Bersertifikat
Diagram Dimensi:

Fitur:
- Besar, kepala persegi panjang dan pegangan panjang
- Busa busa poliuretan sel tertutup
- Teknik ikatan termal menghilangkan kontaminasi adhesif
- Kapasitas pelarut yang sangat baik
- Kompatibel dengan pelarut yang paling umum
- Lembut dan tidak abrasif
- Tingkat residu rendah yang tidak mudah menguap
- Tingkat kandungan ion rendah
- Gagang aman ESD tersedia sebagai opsi
Aplikasi:
- Pembersihan tujuan umum untuk permukaan besar
- Membersihkan dengan IPA atau pelarut lainnya
- Menerapkan pelumas atau cairan lainnya
- Hapus residu fluks dan bahan berlebih
Pengemasan:
100 penyeka / tas
2 kantong dalam dari 50 penyeka
50 tas / koper
Karakteristik Kontaminasi:
Property

Measurement

Test Method*

Nonvolatile Residue(NVR)

TM10: Procedure for Determining the Nonvolatile Residue (NVR) Extractable from Swabs in a Given Solvent

IPA Extractant

0.02 mg/swab

Ions

TM12: The Determination of Ions in Wipers and Other Materials by Capillary Ion Analysis (CIA)

Chloride

<0.01 μg/swab

Sulfate

<0.01 μg/swab

Nitrate

<0.01 μg/swab

Phosphate

<0.01 μg/swab

Fluoride

<0.01 μg/swab

Potassium

<0.01 μg/swab

Calcium

<0.01 μg/swab

Sodium

<0.01 μg/swab

Magnesium

<0.01 μg/swab
*: Prosedur uji tersedia berdasarkan permintaan.
Karakteristik ESD:
Tangani Resistivitas: 10 8 - 10 9 Ohms / Sq (Opsional)
Gambar: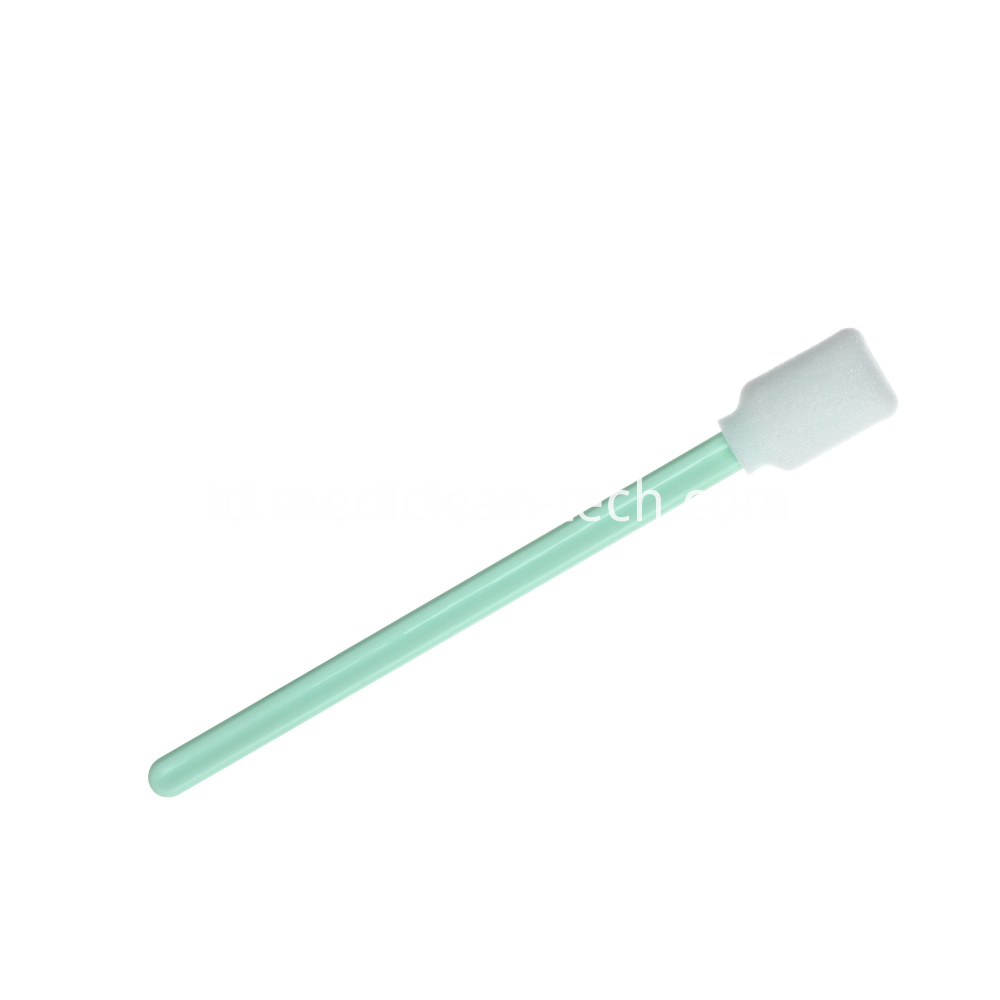 Kategori Produk : Sapu Cleanroom > Cleanroom Foam Swab